View Larger Map
At Lumle, we endeavour to provide as much as information possible to our customers which help them to plan their forthcoming holiday better. In this, we have sketched a rough guide, when to travel to this country.
The best times to visit are Jan, Feb, Mar, Apr, May, Sep, Oct, Nov & Dec as when the weather is clear and fresh and sceneries are breath-taking. Please note Jan, Oct, Nov, Dec, Jan and Feb are winter months; visitors are advised to be prepared for chillier nights, but the hotels in metropolitan cities such as in Kathmandu, Pokhara, Chitwan and Lumbini are equipped with heating amenities.
The months of Mar and Apr are moderate not much cold or hot but from May heat and humidity starts building until June when the monsoon rains start.
Infact, holidaying during festival season or during festival has always been great as country tends to embellished with lots of colour. Although, there are numerous of festivals, Dashain, Diwali and Holi are some of the main festivals of Nepal.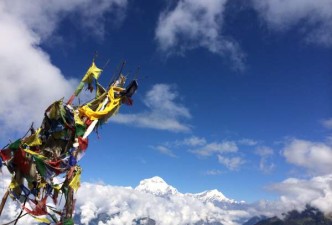 The Nepalese celebrate spring and the New Year by throwing ...
read more
Vijaya Dashami also known as Bada Dashain is one of ...
read more